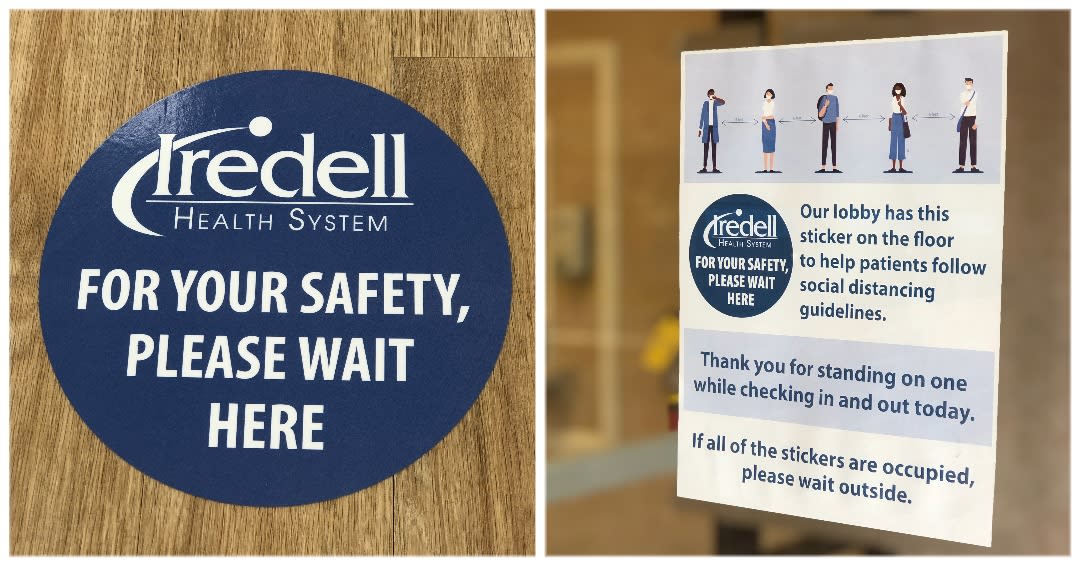 Statesville Family Practice is welcoming patients to a new normal, implementing enhanced safety protocols that offer patients the same quality of care they have grown to expect from all Iredell Physician Network offices while also providing peace of mind.
With continued diligence in cleaning practices, Statesville Family Practice has new procedures and practices that will keep patients and staff safe as in-person visits increase.
Masks are required at our facility for patients, visitors and staff. If you are medically unable to wear a mask, you are encouraged to call our office prior to your scheduled time to let us know so we can assist you in adapting your appointment to a telehealth or car-side visit.
Schedule a virtual visit!
Worried about going to your provider's office during COVID-19?
Statesville Family Practice can now treat patients over the phone or through video. We also offer car-side visits, which allow a patient to remain in their vehicle for their appointment.
Call 704-873-3269 to schedule your virtual or car-side visit.
Rachel B. DiSanto, MD
Dr. DiSanto is a board-certified family medicine physician with more than 13 years of diverse clinical and leadership experience, as well as a passion for whole-person, family-oriented care.
She graduated magna cum laude, earning a bachelor's degree from Elmira College in Elmira, New York before earning her medical degree from the University of Vermont, Larner College of Medicine in Burlington, Vermont.
Dr. DiSanto completed residency in family medicine at the University of Vermont Medical Center.
Kacie Teeter, PA-C
Kacie Teeter joined Statesville Family Practice in 2007 after earning her Master's Degree in Medical Sciences in Physician Assistant Studies.
She grew up in Statesville and is dedicated to improving the health of the community she calls home. She provides preventive care and chronic disease management for conditions such as diabetes and hypertensive heart disease.
Kacie is an active member of her church and a volunteer at Statesville Christian School. She enjoys outdoor activities and spending time with her children.
Jessica Wood, FNP-BC
Jessica Wood is a native of the Statesville area and joined Statesville Family practice in 2009. She worked as a registered cardiac nurse for seven years before earning her Master of Science degree and completing the nurse practitioner program at Western Carolina University.
She has also trained other nurses along the East Coast on how to use specific medical devices in treating and monitoring their patients.
She enjoys reading, cooking, and entertaining family and friends. She and her husband have 4 children, including triplets.
New patients welcome.
Same day sick appointments available.
Statesville Family Practice
310 Davie Avenue
Statesville, NC 28677
Phone:
704.873.3269
Fax:
704.871.8159
Rachel B. DiSanto, MD
Kacie Teeter, PA-C
Jessica Wood, FNP-BC
Iredell Physician Network




Driving
Directions

to Statesville Family Practice